The entire world is sound.
All of nature has a rhythm.
Fish school, birds fly, women cycle in harmonic relationship.
We know this.
We've lost it in our waking life (and definitely in our working life).
What if you could come back to yourself, back to harmonic relationship with the instinctual rhythms within and around you?
What wisdom, what flow, what joy you would you find?
There is a rich, rewarding and profoundly real way of living available to you–intuitive and divinely guided by the creative cycle of the natural world.
Nature has deep wisdom: there is a rhythm to life. Within that rhythm, there is right timing for everything: gestation, birth, growth, death.
You have this same deep wisdom. Harness it to cultivate trust, live in wonder and create sustainable growth, personally and professionally.
Join me in
Sacred Sound Circle
An exploration of the energy and wisdom of each season of the year through sanskrit mantra and related workshops.
In Sacred Sound Circle, we use the practice of mantra to access and embody the wisdom in the rhythm of life. You can expect to:
Connect to yourself, source & nature in a new, consistent and dynamic way.
Find & fine tune your voice (literal and figurative).
Cultivate your ability to choose your energy.
Maintain connection to your vitality, wonder & authentic power.
Relax into your natural rhythm.
Gain wisdom and insight into your next right action.
Trust right timing, knowing that you are fully supported.
Alleviate Anxiety & Lower blood pressure
Release & Transform Karmic Patterns
Develop a deep well of resilience.
Create joyful, sustainable growth.
Experience balance, wholeness, bliss.
Yes, it is that miraculous.
I'm Rebecca Rama Devi Prien. I've practiced mantra (nearly) every day since falling in love with it over 10 years ago.
I am continually humbled by clients' experiences with mantra—and with the ritual of a daily practice. Things shift. This practice clears you out. It reaches that yet-unreachable place that wants to transform, and it recalibrates you to your natural state of balance.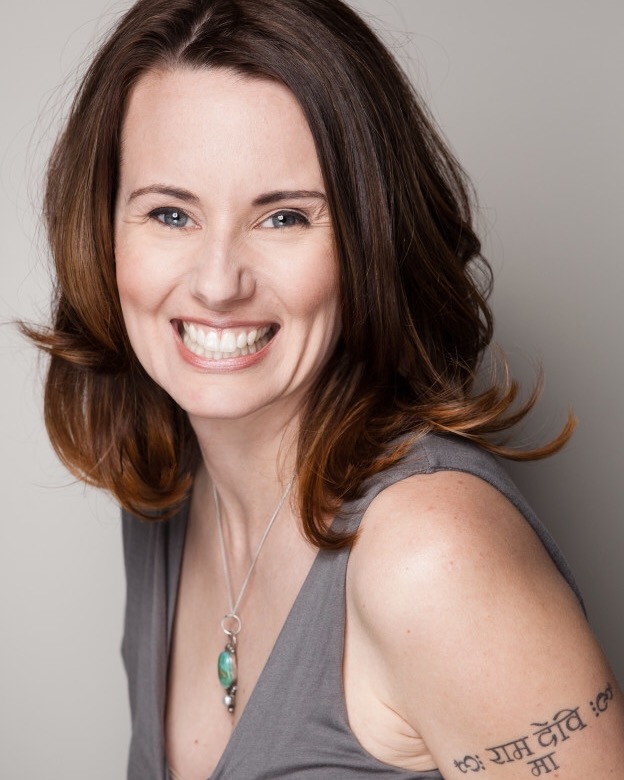 Why is it so powerful?
Mantra uses the fundamental building block of everything in the Universe: sound. At the most subatomic level, all matter is energy that vibrates. The ancient yogis studied the nature of energy-matter experientially long before physicists were able to decude the mathematics and conduct the experiments that underlie quantum physics. But the conclusion was the same: we are vibrating energy, of the same substance and connected to the vibrating energy of the entire universe.
The sacred sounds of Sanskrit, in particular, have a profound impact on matter. Sanskrit is a vibrational language. It's only meaning is the sound. It was discerned as the sound of the vibrational qualities of the universe: abundance, wholeness, transformation.
Sanskrit is used for nothing but spiritual practice. It has been used continually and repeatedly for spiritual practice for nearly 6000 years, handed down from teacher to student in an unbroken energetic lineage.
This has incredible potency.
Mantra has an uncanny ability to still and quiet the mind, and it creates an energetic container that holds and supports the group. In my experience, as both a student and a teacher, this not only makes it easier to commit consistently to a practice, but deepens and amplifies your practice.
As a member of Sacred Sound Circle, you will receive:
A Daily 5-minute guided mantra practice
attuned to the energy of the season and delivered to your inbox each morning. Many of you have told me that the daily email is exactly what you need to stay motivated and committed to your own practice.
An Initiation into the energy of each mantra
For each 40-day practice, you will receive a short audio recording that explores the energetic aspects of each mantra, as well as any rich archetypical or mythic symbolism.
An intuitive message of wisdom discerned from each mantra
During each 40-day practice, I will ask and listen for a message for the group during my mantra practice.
A Yantra: the Sacred Geometry of the Energy of Each Mantra
For each 40-day practice, you will receive the visual counterpart of the mantra's energy in sacred geometry. Use the yantra as a meditation device on its own or in conjunction with the mantra practice.
Six (6) Live Seasonal Workshops
to enrich your experience and support you in your spiritual practice and living according to your own rhythm.
$19/month
Registration is open year round.
A seasonal commitment to yourself of three (3) 40-day practices, or 4 months is recommended. Your membership will continue until you cancel.
Sacred Sound Circle is a rich, transformative experience every season of the year.
Winter: January 10 - March 30
January 10-February 18: Practice 1 | Turning toward the Light
February 18-March 30: Practice 2 | Cultivating Balance and Trust
February 23: Practice Workshop | Malas + Gemstones with Prana Devi
Spring/Summer: April 2 - July 30
April 2-May 11: Practice 3 | Embracing the Great River of Life
April 11: Seasonal Workshop | Exploration of Earth Energy (Kapha)
May 12-June 20: Practice 4 | Diving into the River of Creativity
June 6: Practice Workshop | The Medicine Wheel (+ Shamanic Journey) with Nona Jordan
June 21-July 30: Practice 5 | Stoking the Fire of Your Soul's Path
July 29: Seasonal Workshop | Exploration of Fire Energy (Pitta)
Fall: August 2 - November 29
August 2-September 10: Practice 6 | Tempering the Heat of Transformation
September 11 – October 20:  Practice 7 | Calling in Beauty & Abundance
October 10: Practice Workshop | Sacred Geometry
October 21-November 29: Practice 8 | Stepping into Sovereignty & Authentic Power
November 28: Seasonal Workshop | Exploration of Air Energy (Vata)